Experienced Attorney for Litigation Needs in Huntsville, Decatur and all of Northern Alabama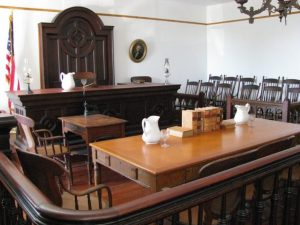 Disputes arise in many different situations. Littrell Law Firm resolves disputes through negotiation, mediation, arbitration, and trial.
Littrell Law Firm develops a strategy for each case, employing various litigation tactics. Mr. Littrell has reached multiple successful multimillion dollar settlements and understands that building your case as aggressively as possible leads to settlement. When settlement negotiations fail, Mr. Littrell is more than ready for trial. He has served as lead, assistant, or sole counsel at several trials and evidentiary and motion hearings.
Mr. Littrell has represented clients in both state and federal courts. He is experienced in various areas of law, including business litigation, corporate litigation, construction litigation, subcontract disputes, divorce, medical malpractice defense, white collar criminal defense, boundary disputes, timber contract disputes, and more.
Littrell Law Firm utilizes the latest technology, allowing the firm to efficiently handle even the most document intensive cases while minimizing costs.
Preparation
Pre-filing or pre-response preparation is imperative. A case must be built, developed, and re-developed. Only after a thorough investigation into the facts of a particular case, and necessary consideration of tactical options, do you know when, where, or what to file with the court.
Discovery
Littrell Law Firm tailors discovery to each particular case. After a case is filed, but before trial, is typically the most lengthy and important period of litigation. During this time, all of the parties to an action are investigating (through a process called "discovery")  all claims, facts, and opinions.
Formal discovery may include both written and oral methods. Written discovery includes propounding and responding to written questions or "interrogatories", and document and admission requests. Also, taking and defending oral depositions can be invaluable, because a party is questioned directly with little or no filtering from his or her attorney. Other methods include permission to enter land and physical and mental examinations.
Trial
When a matter cannot be settled out of court, trial is necessary. While adequate pre-trial preparation is important, a case may be won or lost at trial.
Civil jury trials begin with jury selection. Properly selecting your jury and developing a connection to chosen jurors, during the selection process, is important. Next, the plaintiff and defendant make their opening statements, plaintiff presents their case-in-chief, defendant presents their case-in-chief, plaintiff presents their rebuttal case, defendant makes closing argument, and finally, plaintiff makes their closing argument.
A skilled practitioner with trial experience utilizes each stage of the trial to build upon their theory of the case.
Appeal
Appeal is a process where a supervised court's decision is reviewed by a supervising court. Not every trial court decision is appealable. Adverse decisions are appealed by filing a notice of appeal within the prescribed time (usually within 42 days after entry of judgment in Alabama courts).
Enforcement
Ordinarily, the non prevailing party will voluntarily comply with the court's judgement. But, occasionally, they continue to resist. Prevailing parties may apply for a writ of execution, after the prescribed waiting period has passed. State court judgments are usually enforced by the sheriff's office for the county where execution is to be had.
Contact our experienced litigators today to help you with your legal needs. We are here to help!