Business Services Attorney Serving all of Northern Alabama
Offices Located in Decatur and Hunstville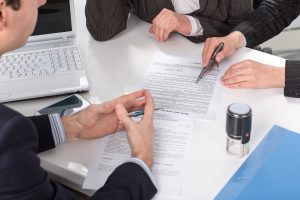 Littrell Law Firm, P.C. offers a myriad of business services. Whether you are a start-up developing a business plan, raising capital, and selecting an entity, or a mature company operating or terminating operations, we enable you to do what you want to do.
We represent business clients in many industries, including:
Manufacturing
Construction
General contractor
Land development
Property management
Restaurant
Medical and professional
Timber
Petroleum
Franchise
Services
Contracts
Business contracts come in all shapes and sizes. We prepare contracts and review contracts that clients have been provided. As Benjamin Franklin said, "An ounce of prevention is worth a pound of cure." By protecting your interests before the contract is signed, you avoid potential headaches downstream. After we represent a client in a business or contract dispute, the first thing they typically request afterwards is a revision of their existing form contract. Some clients have used the same contract for many years, however, as the law develops and the way people do business changes, contract revisions can prove to be quite valuable.
Business Disputes
Business disputes take many different forms. Disagreements arise over what the terms of a contract mean and whether the parties have performed as agreed. We help contractors and subcontractors file liens on real property when the owner fails to honor the terms of their agreement. Disputes also arise between shareholders and business partners. We represent business clients in north Alabama courts and federal court.
By considering what each party ultimately wants, sometimes a settlement can be agreed upon and a lengthy and expensive court proceeding is avoided. We may be able to negotiate a settlement agreement with the other party. Mediation allows a neutral third party to aid in settlement negotiations. Mediation is completely confidential and private. The parties are not forced into an agreement. Mediators are typically experienced attorneys or retired judges that can help the parties resolve their business dispute.
When settlement negotiation fail, an experienced Alabama business trial lawyer can ensure your rights are protected. We know that preparation is the key to success. Our clients stay informed throughout the process. By utilizing the latest technology, we provide our clients with an online account that allows you to view documents from any device with an internet connection. As we work through each step in the process, you see what is happening, as it happens.  We do the work for you, from performing discovery and investigating the facts to preparing you before you appear in court to ensure you are as comfortable as possible.
Please call (800) 621-3591 or contact us today if you are starting a business, operating a business, or winding up a business. We are experienced in Alabama business law and would be happy to help.